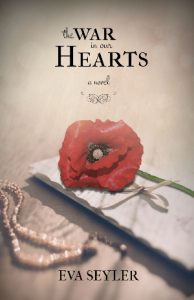 France, 1916: Estelle Graham faces a nightmare. Expecting to meet her beloved husband and bring their newly adopted daughter home to Scotland, she instead finds him gravely injured and unconscious in a casualty station. As she fights for his care, she takes solace in his journals and letters.
In a farmhouse in Somme, Captain Jamie Graham is forever changed when he meets young Aveline Perrault. Both of them broken and walled off from the cruel and cold world around them—made even crueler and colder by the Great War—the pair form an unlikely bond. She finds in him the father she never had, and with her love, he faces the pain from his own childhood.
Discover the depth of love and faith in the face of brutality and neglect as they learn to live while surviving World War I.
Buy in Print: Amazon US * Amazon UK * Barnes & Noble * Books-A-Million * Book Depository
Buy as Ebook: Amazon US * Amazon UK * Nook * Apple Books * Kobo
Praise for The War in Our Hearts:
Beautifully crafted, we see Graham's story from boyhood to present. I usually don't read stories about war but this story sucked me in. I love Graham's background story, the writing was poetic and his relationships with his wife Estelle, Avie and George were beautiful 🙂
This story grabbed my attention from the very beginning and would not let go. Read the whole thing in 24 hours. The characters are so well thought out and easy to visualize and get close to, the real feelings and conflicts of the minds and hearts are so relatable and engaging.
Eva Seyler's heart-breaking WWI novel spins the tale of Captain Augustus Graham, a Scottish lord with a love of music made so much sweeter by the appreciation of his compassionate and fearless wife, Estelle, and his rescue of Aveline, a thirteen-year-old orphan caught between the trenches. Tortured by his overbearing father from a young age, Graham survives his youth with the help of his devoted, yet seemingly-charmed fraternal twin brother, and his discovery of his own identity through a natural musicality and faith. Jumping between the horrors of the trench warfare and the major events of Graham's life, Seyler lets us fall in love with our reluctant hero, the same way the independent Estelle does, by coaxing him out of his protective shell.

When Graham meets Aveline, a victim lost to the horrors of a war-torn French countryside, he develops a fast kinship and devotion to the young woman, who is in many ways a reflection of himself. Determined to return Aveline to Scotland to raise as part of his own family, Graham finds meaning in the anonymous mud and blood of the Great War, and a redemption in his own eyes, for the sins of his father. Like the Scottish ballads Graham and Estelle use to vocalize their love, Seyler's story is both maddingly sweet and heart-ripping sad, which is why this reviewer loved this epic tale of love, honor, and redemption.
Beautifully written snapshot of the Western Front during WWI. I loved getting to know Graham as he wades through his memories and the war, struggling to find peace from both.
A moving account of an unusual friendship blossoming out of the horrors of the trenches in World War I.
I take my character sketches quite literally. These are a few of my favourites.
I have a YouTube playlist for the book.
Most of these videos are music mentioned in The War in Our Hearts.
Interspersed are seven songs representative of specific characters, not because they are of the period. These are:
Ae Fond Kiss – Willie Duncan / Bridge Over Troubled Water – Estelle Graham / Bring Him Home – Peter Davies / Brother – George Graham / Hame, Hame, Hame – Oliver MacFie / How Can I Keep From Singing – Jamie Graham / Plaisir d'Amour – Aveline Perrault
Also on the playlist are two songs Graham might have sung when he was small, and I've included them because Jean-Baptiste Maunier looks how I picture Graham, and Richard Bonsall sounds exactly as I imagine Graham as a boy. (I hear Lawrence Tibbett with a Scottish accent for his adult voice.) The Paganini Caprice is what Graham was playing on his wedding night, and I've thrown in a few duets that I could well picture him and Estelle having played together during her first visit to the castle.
Recommended reading:
A Childhood in Scotland, Christian Miller : Primary inspiration for Graham's upbringing. Christian's writing is a perfect delight, and it's a little book you can read quickly, although I've been through it three times and I find myself longing to just savour every turn of phrase.
Eye-Deep in Hell, John Ellis : Practical guide to trench warfare in WWI. What they ate and wore, how they received and sent mail, how they dealt with rats and fleas, and plenty of delightfully gruesome details about corpses and filth in general.
Hot Blood and Cold Steel, Andy Simpson : Another practical guide to trench warfare in WWI. Some of the same information as Eye-Deep in Hell, but this one had enough different stuff in it that I was very glad I read it. Definitely had more about the process of dealing with the wounded, which came in very handy for The War in Our Hearts.
The Somme: The Day-by-Day Account, Chris McCarthy : For weather reports and daily movements of the battles and which divisions did what and where, look no further. The cover features a delicious painting of kilted soldiers, too, which as far as I'm concerned makes the book completely worth having.
The Fifteenth (Scottish) Division, Lt Col John Stewart and John Buchan : Graham's division is loosely based on this one. It's not easy reading, and I haven't read the whole thing. But if you want Absolutely Every Last Detail about this division all throughout the war (they also fought in other battles pre- and post-Somme), this is the book for you.